News
February 2023
We want to thank all the DistribuTECH International 2023 attendees that drop by our booth #548 to experience a demonstration of our exciting PF-ONE technology, The Grid Edge of the future. We always enjoy the opportunity to interact with members and colleagues of the electrical industry who have a shared passion for the driving energy of the future. We look forward to meeting again at upcoming events.
January 2023
PF-ONE at DistribuTECH International 2023
PF-ONE is a must for worry free Power Quality on the modern distribution grid. With PF-ONE positioned on the grid-edge, load voltage and currents are constantly measured to determine VAR, harmonic content, and load imbalances. Power Quality compensation and correction is performed locally, without communications.
PF-ONE operates autonomously providing reaction time in microseconds, eliminating the need for SCADA integration and expensive system studies. PF-ONE is a complete Power Quality compensator, with the highest efficiency and power density in the industry. It is an infinitely scalable solution; linear improvement is realized with the number installed, keeping installation cost to a minimum (replace a meter). And of course, it serves all the functions of a Meter.
PF-ONE's distributed nature enhances every aspect of DER (Distributed Energy Resources) and reduces the cost and risks of high penetration distributed solar. PF-ONE generates all local VAR requirements locally, VAR production goes with the loads and is no longer dependent on remote Utility resources. This enhances operation of DER and paves the way for grid forming networks in isolation.
PF-ONE's unique approach represents a fundamental positive change to the way power systems are designed and managed. With a focus on power system fundamentals and operational physics, improvements are seen in every aspect of power system operation. PF-ONE could not have come at a better time to fuel the carbon free transformation of power systems.
Visit us at DistribuTECH International 2023, San Diego, CA, USA.  February 7-9, 2023, Booth #548.
Featuring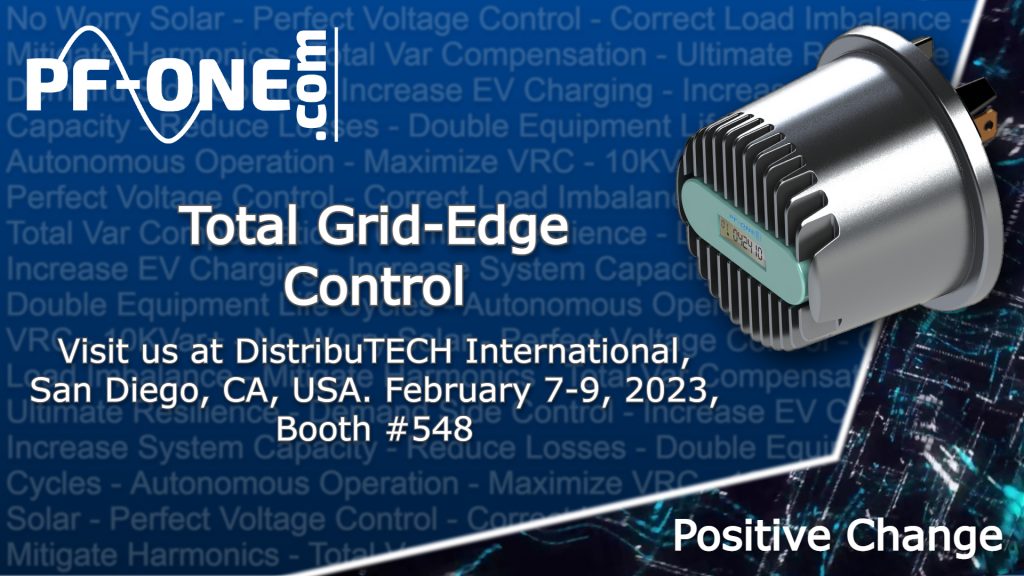 March 2022
PF-ONE is keeping it REAL!
To meet Power System challenges of the Green Economy, a greater control over distribution assets is a must. Present distribution networks are unprepared for the uncertainties of new technology, home solar, and Electric Vehicle (EV) adoption.
Introducing PF-ONE, a Grid Edge compensation technology, where active currents are injected to cancel reactive, harmonic, inrush and imbalanced load currents adaptively. With PF-ONE's unique abilities, distribution networks are autonomously tuned to meet Load, Voltage, Power Quality, and Stability requirements. Increase distribution capacity, reduce technical losses, and make seasonal or time of day network adjustments a thing of the past. The PF-ONE infrastructure grade control brings all of these benefits to networks big or small at scale, without the need for communication.
Smart Meter devices incorporating PF-ONE compensation technology shield Power Utilities with full system compensation right to the Grid's edge. Now installation is as simple as replacing a service meter.
Power Systems are central to global decarbonisation, the Green Economy!
Got questions?
See us at Smart Cities Pavilion Booth # 3920, in the upcoming IEEE PES T&D Conference and Exposition, New Orleans, LA, USA. April 26-28, 2022.